Biography and Personal
I was born and grew up in Finland — the country where people wear Nokia boots. My mother tongue is Swedish (the kind spoken in Finland, i.e. finlandssvenska). I also speak Finnish and English. I hold dual citizenship (Finnish and UK).
I did a B.A. in Computer Science at the University of Oxford, tutored by Dr Jeff Sanders. During the summers of my undergraduate degree, I worked as a research assistant at Abo Akademi University in Finland for Prof. Ralph-Johan Back.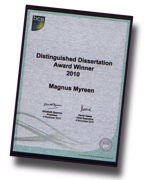 I completed my Ph.D. on program verification in 2008/2009 at the University of Cambridge, supervised by Prof. Mike Gordon. My PhD dissertation was selected as the winner of the BCS Distinguished Dissertation Competition 2010.
In 2012, I became a Royal Society Research Fellow.
In 2014, I moved to Chalmers, where I became associate professor in 2015.